I recently fell in love with sensory tubs while perusing a blog called
Counting Coconuts
, "a place where you'll find lots of learning activities and ideas for toddlers and preschoolers inspired mostly by the Montessori method." This has quickly become one of my new favorite blogs! After spending quite a bit of time there, I decided that we would incorporate the sensory tubs and also play dough play into our learning routine. So, yesterday and today, I've been doing a little shopping and today, we created our first sensory tub!
I decided to go with a fall/apple theme.
Items in the tub:
small silk leaves
foam pumpkin
foam squash
2 medium and 2 small foam apples
3 yarn apples
a small basket
2 small wood bowls
3 silk sunflowers
2 wooden mushrooms
9 plastic "crystal" acorns
an apple shaped mini chalk board
a rubber cricket
little pieces of brown & green chenille stems
Everything was purchased at either Walmart, Dollar Tree or Pat Catan's except for the yarn apples which I made myself.
Micah immediately went for the acorns. He loves stuff like that.
Laural enjoyed playing with the silk leaves, sprinkling them down like leaves falling from the trees.
Next up was play dough. I made a double batch. Now, I have made play dough before, in lots of colors, but I have never before thought of or heard of scenting the play dough. I really liked the idea though. I also really liked the apple pie scented play dough idea at Counting Coconuts. I divided my dough into 2 balls. The first ball I left natural color for the pie crust and scented it with cinnamon, vanilla extract, a little almond extract and butter flavor (like you would use to make butter cream frosting for wedding cakes). It smelled divine all mixed up. My mouth was actually watering. For the 2nd ball, I mixed in a lot of red gel food color, cinnamon and a little bit of tropical punch candy flavoring to give it a fruity smell. Again, it smelled good enough to eat. When Steve got home from work in the morning, I took the lid off the container and asked him to smell it. I asked what he thought it smelled like and he said apple pie! Bingo!
I gave each kid a ball of each dough, an apple or star cookie cutter, a small shallow bowl to use like a pie tin, a plastic knife and the rolling pin. I don't have a little one, so they had to use my big one.
They had a blast playing with it. I told Laural how to make a pie and she made me a very nice pie.
Micah isn't quite to the point of making things like that but he had quite the time using the rolling pin, cookie cutter and knife in the dough.
Most of the time though, he just wanted to smell it.
Now for the really good part - a giveaway! My first giveaway, actually. I had such a fun time planning for and shopping for things in the sensory tub that I want to share the fun! So, here is what I will be giving away to one lucky winner - some fall/apple theme sensory tub fillers!
2 small wood bowls, 2 wood mushrooms, a wood jug, an apple shaped mini chalk board, 4 medium apples, 1 small apple, 2 yarn apples (hand made by me), 3 silk sunflowers, a fall themed cube (like a rubik's cube - see pic below), 9 or 10 "jewel" acorns and a rubber spider.

(I may throw a couple other things in there too that I've picked up since posting this.)
The "rubik's" type cube. I thought it was a cute and clever idea so I grabbed one for my kiddos and a spare for giving away.
The very cute yarn apples that I made. I found this at
Make and Takes
through Counting Coconuts.
For a chance to win, just leave a comment letting me know that you do and what your experience is with sensory tubs - whether you've tried them before, would like to try them or if you think you'd use the stuff for some other use. Easy peasy!
For bonus entries: share on facebook, tweet and/or blog about the giveaway and leave a separate comment with a link for each thing you do for a total of 4 possible entries per person. Please make sure I have an email address to get in contact with you should you be picked!
Deadline for entries will be October 2nd at 11:59 PM EST.
I'll use random.org to pick a winner sometime in the 24 hours after the close of contest.
Winner should respond within 3 days of being notified or I will pick another winner.
This is a giveaway sponsored by me! Nobody gave me anything or paid me to give anything away. These are things I bought myself - either an extra with the intention of giving it away or part of the contents of a multi pack that I am sharing just because I want to. :)
Well, there were some pretty good odds for the two who commented to win! Random.org says:
Congrats to Frugalhomeschooler! I'll be sending you an email soon!
Thanks to both of you for entering.
Thanks for stopping by! Have a blessed day!
I linked up at Along For the Ride for Crafty Day.
(because I loved those little apples so much!)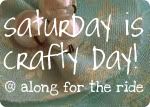 Also linked to: